About bacpillow
Want to be free of back pain forever?
Strong, toned, lower back and abdominal muscles (your core) can make a huge difference to your quality of life.
Be rid of back spasms when you move. Be able to pick things up, rollover in bed, put your socks on, and stand for periods of time without pain.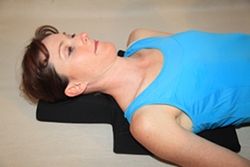 The BACpillow makes getting you there much easier. When you lie on the BACpillow for your core exercises you know you are getting the best results because you can feel the muscles working the way they are meant to.
Your neck is comfortable; your back well supported. The BACpillow places your spine in the best alignment for working your core muscles. With some simple yet very effective exercises, you do the rest.
Other changes you will love:
With strong stomach muscles your tummy flattens! A flat stomach means no more tummy hanging out over the top of your jeans. Imagine how great you will look.
Improved posture. A strong back helps you stand straight and counteracts hours of sitting at the computer and driving.
Better mobility.  No longer having to worry which movement will trigger back pain, you will be able to move more freely.
Loose weight. Back pain can keep you sedentary. Without back pain you can begin a walking or exercise program to shed those unwanted kilos.
More energy. Pain takes away your energy. Being pain free with give you back energy for the things you love to do.
Make the BACpillow your secret to success!
---
What is BACpillow?
The BACpillow offers exceptional head, neck and upper back support. It is a light weight pillow especially designed to work your lower core muscles including the abdominal muscle called the Transverse Abdominis (TA) – the secret to being back pain free!
The TA is an important spine stabilising muscle which can be difficult to identify but not any more! With the BACpillow you can be sure you are using the TA muscles every time you workout.
Exercising using the BACpillow will…
Strengthen the TA and lower abdominal stomach muscles.
Tighten the pelvic floor and multifidous (lower back) muscles.
Get a great abdominal workout without neck strain.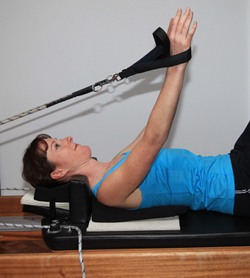 For all levels, from beginners to the advanced athlete!
No more sore necks!
If you have ever had a sore neck from abdominal workouts try the BACpillow.
You can get a great lower abdominal workout without even lifting your head. Of course, if you prefer the crunch style exercise you can do that too.
Advanced athletes – make the BACpillow your secret training advantage!
The unique sculptured design of the bacpillow:
Provides support for the upper back, neck and head
Allows relaxation of the shoulders and neck
Helps you use your chest and upper oblique muscles when exercing which adds to your core strength (and makes your stomach look amazing!)
The BACpillow is suitable for most adults of average build.
Light weight
Removable cover
No assembly required
An instruction leaflet is included
Made from medium density foam coated with polyester/nylon flocking
Can be cleaned (see care instructions below)
Made in AUSTRALIA with strict quality control.
Care Instructions
The BACpillow is made from flock coated medium density foam. It can be cleaned by very lightly dabbing it with a slightly damped clean cloth or soft brush. Do not press hard or rub for a long time. The removable polyester cover is fully washable.
Made in Australia
US patent US 7,665,165 B2
Australian patent 2008201205