The Secret To Reduced Back Pain And Firmer Stomach Muscles
Eliminate Back Pain and Neck Pain by using the BACpillow.
Time to get yourself moving easily again.
Do you suffer from back pain or neck pain?
What if you could get relief now AND do exercises that will help prevent it in the future?
That's what the BACpillow offers you.
Just lying on the pillow can give you pain relief for your back and neck.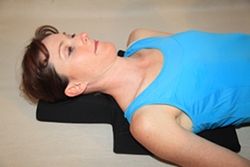 It only takes a few minutes a day on the BACpillow.
Use it to help
relax your spine
tone your abdominal muscles
and it will change your life!
Comfortable to lie on
Supportive
Relaxes your back and neck muscles
The unique shape positions you so that you can easily identify your TA (Transversus Abdominis) muscle - a key core muscle
Tone and strengthen your stomach muscles without lifting your head
Do your regular gym exercises supported and using your core muscles or specific exercises designed for use with the pillow
Get unbelievable results easily and in less time than you expected
Support your neck and back in a natural way
You will feel fitter, slimmer and more energetic as you tone your core abdominal muscles to hold your stomach in and support your back. These muscles play an important role in supporting your spine. As they strengthen, back pain can disappear.
Use the BACpillow for all the exercises you do lying on your back. It is great to lie on for relaxation and meditation too.
Your back pain could be a thing of the past. The unique shape of the Back Abs Core (BAC) pillow relaxes your spine and help you tone your deep core muscles. With some specific, basic exercises while lying on the BACpillow you will strengthen your back and stomach muscles  ready for your full and vibrant day.
This back pillow offers exceptional head, neck and upper back support. It is light weight. Especially designed to work your lower core muscles, including the abdominal muscle called the Transverse Abdominis (TA), it helps you strengthen and tone those muscles that support your spine.
I was introduced to the BACpillow two years ago when I started Pilates training. The support I got from it launched me into intensive work on my back which I have had problems with for years. The strength in my back has improved considerably. I no longer suffer from lower back pain that haunted me for years. I put this down to the specific design of the BACpillow. I now have strong abdominal muscles which support my back. I can now do all the physical things I was hesitant to do in the past – like intensive gardening and long-distance walking. The side benefit from this work is my improved posture. Even though I am 63 years old, my posture is that a much younger woman.

Zofia Di Stefano

Company Inc
I love the BACpillow. I find simply lying on it to be a relief. I hold a lot of tension in my neck and upper back and the BACpillow provides such support and alignment that I am able to relax. From the correct supported position the BACpillow provides I am able to connect to and work my core stomach muscles that support my back.

Nicki M
Gay: We use the bacpillow every day as it is most supportive. It is made in such a way that every part of the neck is supported.

Stuart: My back pain is a thing of the past. I enjoy my golf every week pain free.

Gay and Stuart

Company Inc
When I first lay on the BACpillow I surprised how supported my back felt. The back pain reduced immediately, especially after my microdiskectomy.
Using the bacpillow for the specific exercises helped me strengthen my stomach and back muscles. My back is so much stronger, and way more comfortable than before. I thoroughly recommend it.

Kerry Sullivan
Why Do You Need It?
You might already be doing ab exercies ...
The OLD way: Stomach exercises performed lying directly on the floor can actually harm your back. You may think you are doing the exercises to help your core and back get stronger but it could be making things worse. It can be very difficult to control the lower back doing ab exercises this way. You are probably using the wrong muscles ! (because your spine is not supported correctly.)
The NEW way: The unique shape of this back support pillow places your upper back in the ideal position to strengthen the correct muscles as you exercise. It helps you keep your spine in the optimum position while you exercise for a strong, healthy back and flatter tummy. Lie on the BACpillow and use it to do your exercises.  You get great results using this back pillow when doing exercies to strengthen their core.    More information ...
What's it about?
 Back pain
Back pain is tough. It affects how you enjoy life. It can stop you doing the things you love, such as sport, playing with kids, even sleeping well.  If you suffer from back pain it could be that your muscles are tight and overworked as a result of injury, repetitive movement, poor posture and many other problems. This back pillow supports your spine so that the natural curves of your spine are comfortable. That allows for deep relaxation without you having to do anything and can bring immediate relief.
Neck Pain
Neck stiffness alone is bad enough but it can lead to heacaches and other problems. Neck pain is annoying and frustrating. The restriction of your neck movements can mean you find it hard turing your head when driving a car, looking for things, even playing games.  The support from the BACpillow allows the neck to be in its most natural alignment. Stiffness and tightness can melt away with the support this back pillow provides.
Relax and Tone
Because it is so comfortable, lying on the BACpillow allows your body to relax . This switches off the tight muscles. In this relaxed state, you can train your body's core muscles to switch on without the tight muscles taking over. Back and neck pain are a thing of the past. Instead you can be pain free. You are doing the things you love.
Get stronger abdominal muscles
Do your stomach exercises correctly
Pain free
Better quality of life
Easy and fun
Be able to pick things up easily
Strong core and strong spine
Let me know more about the BACpillow
If you would like more information about spine health and updates on exercises, please enter your name and email here,

We value your privacy and would never spam you